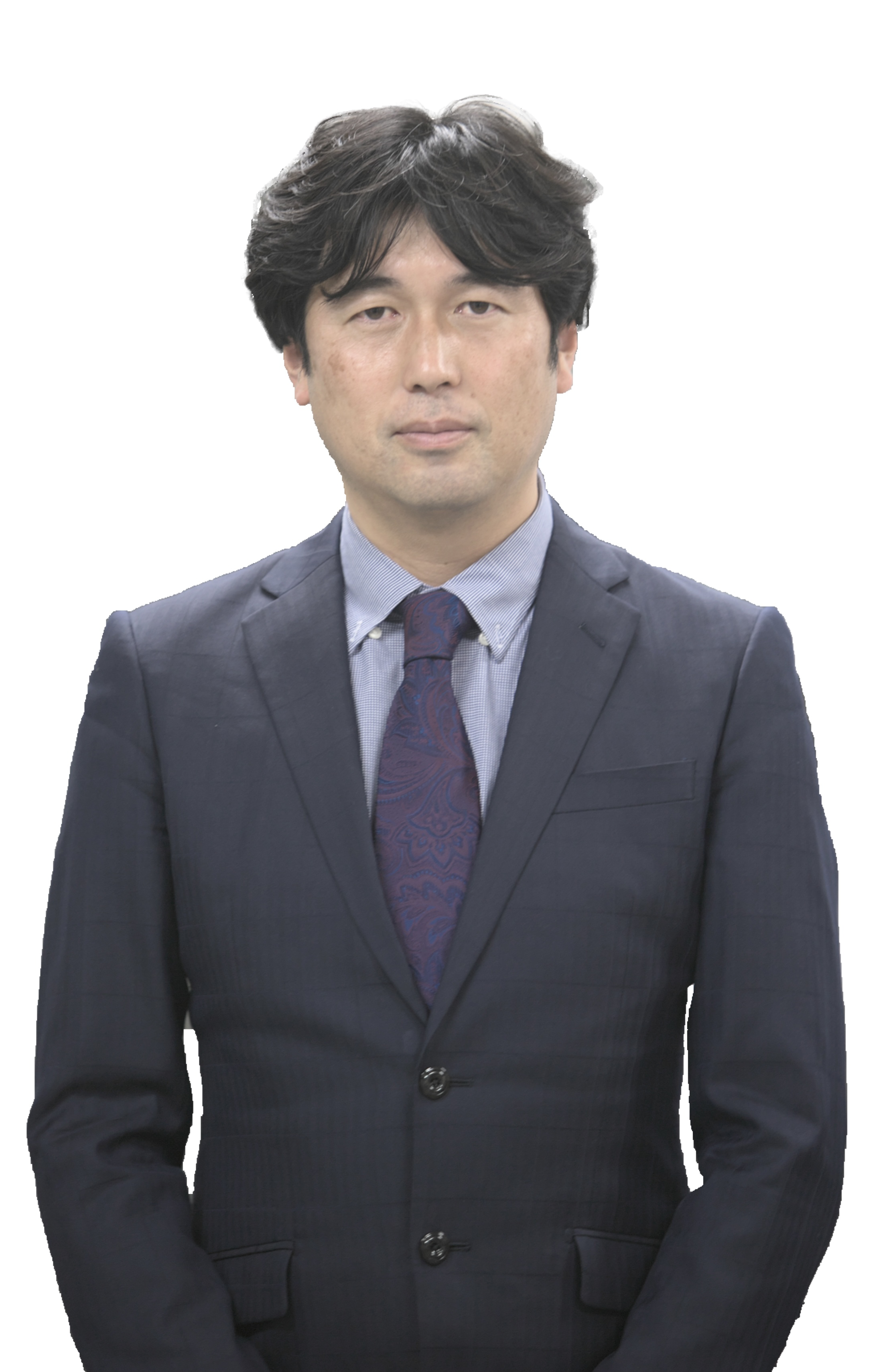 A Message from the Director
Hironori Fudeyasu, Professor




Director, TRC,

Institute of Multidisciplinary Sciences

, Yokohama National University

Driven by global warming, disasters caused by typhoons are dramatically increasing in intensity. Japan's national and local governments have worked out a wide range of typhoon preparedness and damage-mitigation measures, yet typhoons remain as grave a threat as ever.

Viewed in a different light, however, typhoons are also clusters of natural energy. If that enormous energy could be harnessed as a resource, it could provide a source of renewable energy, contributing to the achievement of a carbon-free society.

To contribute to the achievement of a safe, secure, sustainable and vibrant society, the TRC aims to transform typhoons from the threat to humanity they are today into a blessing of abundant energy. Moreover, to implement leading-edge technology in mainstream society, the TRC is examining applications for the by-products created in the course of its R&D activities, pursuing commercialization, and working on the development of related legal and ethical frameworks.

The issues that remain unresolved, both technical and social, are varied and numerous, yet I am convinced that comprehensive solutions can be forged through the close collaboration of specialists from a wide variety of fields. The TRC is tackling these challenges with a sense of mission, determined to meet your expectations of us.
Understanding the TRC: A Leading Institute for Typhoon Research
The Typhoon Science and Technology Research Center (TRC): A Multidisciplinary Approach to Typhoon Research
The Typhoon Science and Technology Research Center (TRC), currently a part of the Institute of Multidisciplinary Sciences (IMS) at Yokohama National University (YNU), is Japan's pioneering institute for typhoon research. With an enduring mission and a multidisciplinary approach, the TRC remains a beacon of academic and technological advancement, regardless of its administrative affiliation.

Originally established under the Institute of Advanced Sciences (IAS) in October 2014, the TRC was formed in response to the modern challenges of living with risk. Guided by a vision for a safer, more sustainable society, the IAS and later the IMS have continuously aimed to develop practical and innovative strategies to manage and understand risk in the 21st century.

With the transition of the TRC to the IMS in 2023, there was no change in the center's key objectives: to reduce the risk of typhoon disasters and contribute to a carbon-free society through the harnessing of typhoon energy. The institutional change served to broaden the scope of collaborative opportunities and resources available to the TRC.

The TRC operates as a central hub of research, fostering the development of new academic disciplines and technological advancements related to typhoons. Collaborating with researchers and academics from diverse fields such as electrochemistry, marine engineering, law, economics, and business administration, the TRC consistently aims to drive innovation and implementation of new technologies.

By focusing on unique, world-first research themes related to typhoons, the TRC has established a strong reputation among research centers in Japan and globally. As a part of the IMS, the TRC continues its pioneering work, reinforcing its status as Japan's leading institution dedicated to typhoon research.
Four Contributions of the TRC
①
Contributing to the achievement of a safe, secure, sustainable and vibrant society by reducing the risk of typhoon disasters
The TRC is building a framework for recognizing disaster risk in advance and implementing measures against it, by improving technologies for understanding, forecasting and simulating typhoons. Its aim is to enable communities to coexist with nature and its inherent risks by eliminating the threat of tragic disasters as far as possible and eventually to forecast the severity of typhoons. The TRC is confident that this program will contribute greatly to the formation of a safe, secure, sustainable and vibrant society for everyone living in Japan.
②
Contributing to a carbon-free society by devising new forms of sustainable energy
As part of efforts to reach targets for reduction of greenhouse-gas emissions, the government of Japan has announced a "green growth strategy" aiming for carbon neutrality by 2050. The green growth strategy calls for more aggressive implementation and more efficient use of renewable energy. To achieve carbon neutrality by 2050, however, more efficient use of existing renewables will not be sufficient by itself. Research and development to discover new methods of acquiring renewable energy, backed by new ideas, will be necessary. If the titanic energy concentrated in typhoons could be efficiently harvested, typhoons could be added to Japan's lineup of renewable energy sources. With the prodigious energy brought to Japan by the typhoons that batter her shores almost every year, along with the vast exclusive economic zone she possesses, Japan is in an exceptionally advantageous position to achieve typhoon power generation. By turning the threat of typhoons into a bounty, formerly energy-poor Japan could sufficiently reverse her fortune, becoming a natural-energy superpower in a carbon-free future.
③

Spurring recovery of Japan as a technological superpower through typhoon innovation
In international comparisons of the quantity and quality of academic papers published, various indicators of competitiveness and so on, Japan's present decline in terms of scientific and technological capability is shocking. Reclaiming this capability for Japan and recovering her industrial competitiveness will require the sort of investment in R&D and cultivation of personnel that countries such as China and the United States have been patiently pursuing for over 20 years. Unfortunately, the current framework makes it difficult for Japan to boost her performance in existing industries and technologies. However, the technological development the TRC is pursuing promotes the realization of a society completely different from anything that has gone before, creating whole new markets and requiring completely novel suites of technologies and products. I believe that Japan must set her sights on reclaiming the mantle of world leadership in technology, by means of these new technologies and industries. Reducing the damage wreaked by typhoons while putting their awesome power to practical use through power generation provides an opportunity to revitalize Japan's now-declining industrial base and restore her to technological superpower status. Moreover, I am convinced that these new, made-in-Japan technologies can bring the same blessings to other countries around the world currently suffering from the ravages of cyclonic storms.

④
Seamless academic-industrial partnership in research helps to cultivate a globally competitive workforce
The wide variety of activities conducted by the TRC provides fertile ground for cultivating young researchers and entrepreneurs. First, to meet its targets, the TRC must solve scientific, technical and social problems that span multiple existing disciplines, including meteorology, computer science, naval architecture and ocean engineering, aeronautical engineering, economics and sociology. This means that the research activities of the TRC can be expected to play a vital role in the strategic cultivation of research personnel. Second, the TRC's activities include social-science research with innovation as its goal, so the development and stimulation of research across a wide remit can be expected.

Third, by commercializing research results for the purpose of their social implementation, and by encouraging the formation of startup businesses using the "by-products" generated in the process of research and development, the TRC expects to attract investment in R&D, enabling stable and sustainable R&D and even accelerating research. As with the development of research personnel, the training and appointment of people who will drive this process of commercialization will also be promoted within the process of accomplishing the TRC's goals.

In both these efforts, developing research personnel and cultivating entrepreneurs, younger generations will grapple with specific issues related to the achievement of the TRC's goals, which has the potential to drive Japan's recovery of industrial competitiveness. As such, we look forward to producing practical personnel who can play leading roles on the world stage.
From the Addresses at the TRC Opening Ceremony
Izuru Umehara
President
Yokohama National University
Director
Institute of Advanced Sciences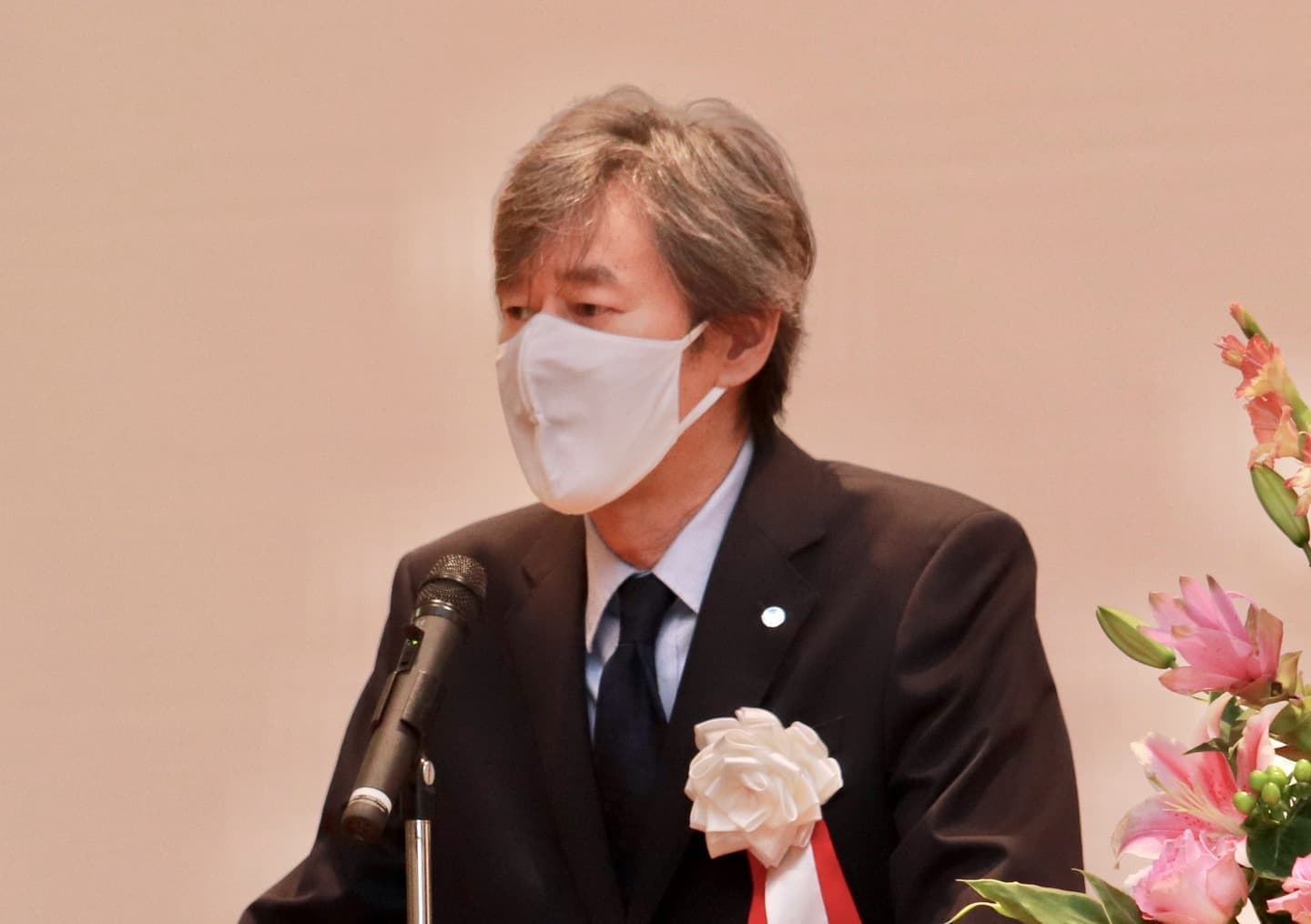 It's a pleasure to see you all. My name is Izuru Umehara and I am the President of the Yokohama National University. I'm glad you could all be here today despite the poor weather. Well, the day we have been waiting for so long has finally arrived, and a typhoon research center is established within our institution. It was two years ago that I had an opportunity to talk with Dr. Fudeyasu and he remarked to me, "Japan doesn't have a typhoon research center." I recall the passion in his voice as he told me of his desire to create such a facility in Japan. I knew that Dr. Fudeyasu was not alone, that many other typhoon researchers and meteorologists felt the same way, and so I resolved to do whatever I could for them. As I said, that was now two years ago. Today the TRC has become a reality, not only with the help of Yokohama National University but thanks also to the passion of those great typhoon researchers and meteorologists and all their supporters, without whom this achievement would not have been possible. YNU will do its part to support your passion and commitment. As you heard earlier, as President of YNU I also serve as Director of the IAS and so am in charge of management. In both those capacities, I will continue to support you steadfastly, building on the TRC's position as Japan's top typhoon research facility to ascend to even greater heights. I ask you also for your ongoing support for both YNU and the TRC. Later today you will hear the Director and Vice-Director of the TRC speak of their own passions for this project, so I will conclude my remarks here. Once again, thank you all very much for joining us today. This concludes my brief address. Thank you.

Hironori Fudeyasu
Director
Typhoon Science and Technology Research Center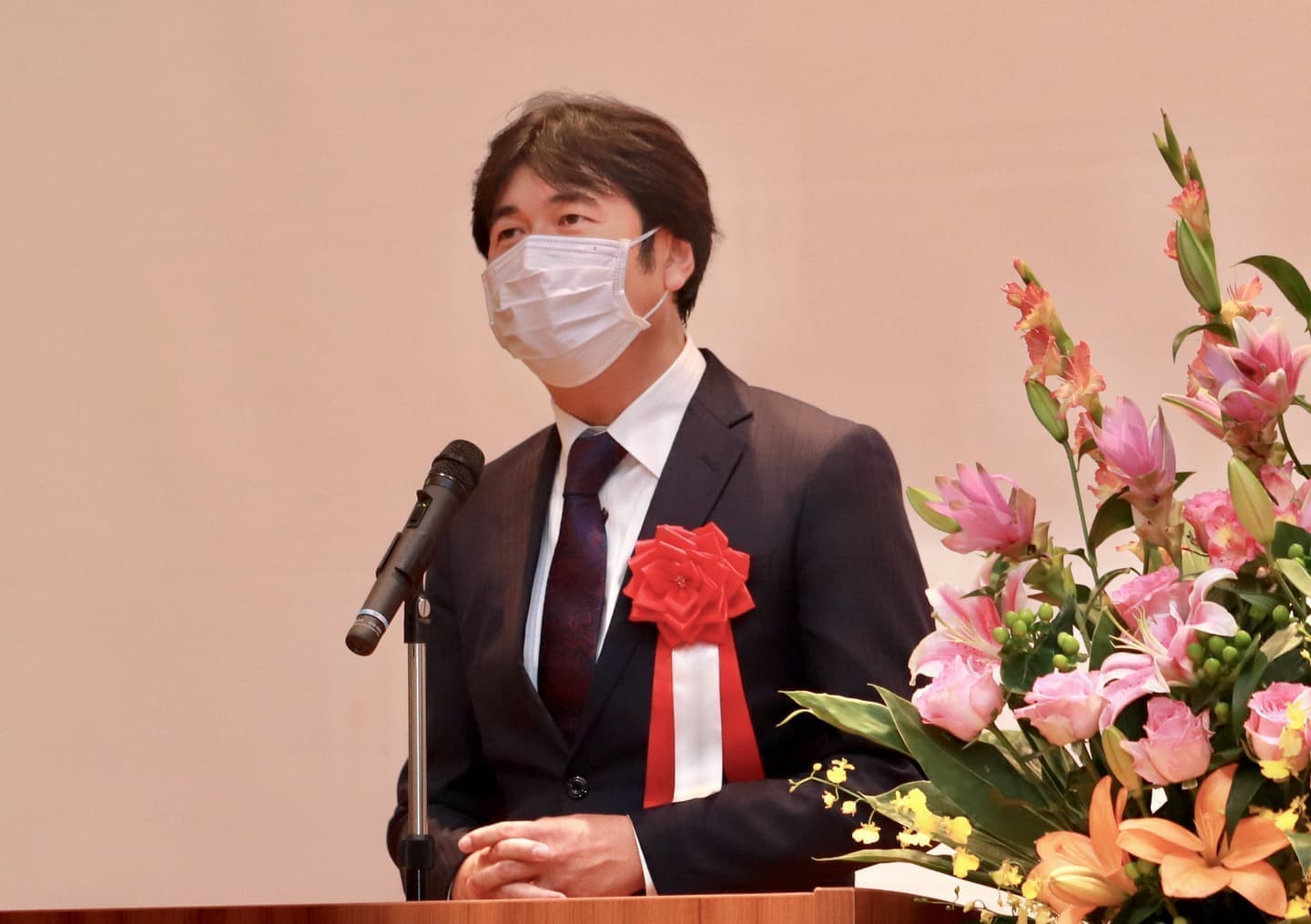 Hello everyone, my name is Hironori Fudeyasu and I am the Director of the Typhoon Science and Technology Research Center at Yokohama National University. I'm very grateful to all of you for being here today to help celebrate the launch of the TRC. I'd particularly like to thank Dr. Umehara and everyone else at YNU and the other related parties who worked so hard to make this day possible. It's wonderful to see so many of my fellow researchers assembled here. I'm also delighted to see that so many media representatives have gathered here to cover this event. Your attention to this important milestone is a reflection of the expectations society has for us. We will provide detailed information about the TRC later on, but right now I'd like to share my thoughts as Director of the TRC and as an individual researcher. I feel that typhoon research has already garnered a great degree of success. From time to time we are able to elucidate the mechanisms by which typhoon phenomena occur and emerge. In terms of forecasting, when a typhoon is spotted we can predict its movement with a fair degree of accuracy, which makes us feel that our research is going well. Unfortunately, once a typhoon is on its way like the one that is coming now, there isn't much we can do about it. A typhoon can cause grievous loss of life and damage that takes many years to recover from. When I was a student, my thesis adviser was involved in damage surveys, and he took me with him many times as he traveled to typhoon-stricken areas. The scenes I witnessed on those occasions are little different from the scenes at typhoon-stricken zones we see today. The suffering caused by typhoons is horrendous and remains as much a threat as ever. I have been researching typhoons for over 20 years now and I ask myself: Has my research been of service to anyone? Will this thesis I'm writing benefit people in some part of the world? The gap between the research and the reality of typhoons is so stark, I feel a sense of defeat sometimes. My heart breaks when I see the suffering and trauma typhoons cause, yet I know that my research will take me to witness such heartbreaking scenes again and again. It makes me despair for the future sometimes. But it's darkest before dawn, and that brings me back to the subject of the TRC. The TRC offers a framework for turning my hard work in typhoon research into results that can be steadily applied in society. Perhaps now I can join hands with my fellow typhoon researchers, with whom I am linked by fate, as well as with numerous researchers who have no background in typhoons and meteorology, to do research we could never accomplish before, to devise more effective measures against typhoons and make contributions rooted in communities. Although we may not be able right away to reduce the damage caused by typhoons, we now have the opportunity to try different approaches. When I realized that it was finally possible to make such a dramatic change in course, I started to see some light on the hitherto dark horizon. And that is how I feel today. The despair and powerlessness I felt about typhoons till now has transformed into a sense of mission for me as a typhoon researcher. Like Dr. Umehara who spoke before me, establishing a dedicated typhoon research center had long been a dream of mine. Now that that dream has come true, I am determined to spend the rest of my life fighting the scourge of typhoons, shoulder to shoulder with my colleagues at the TRC. I ask all of you who have joined the TRC with me to devote yourselves completely to typhoon research, doing whatever you can to make the future the TRC aims for a reality. And as always, I ask for the continued support, cooperation and encouragement of everyone who has supported our work in the past. Thank you all very much indeed.

Kazuhisa Tsuboki, Professor
Vice-Director, TRC
Director, Typhoon Observation Research Laboratory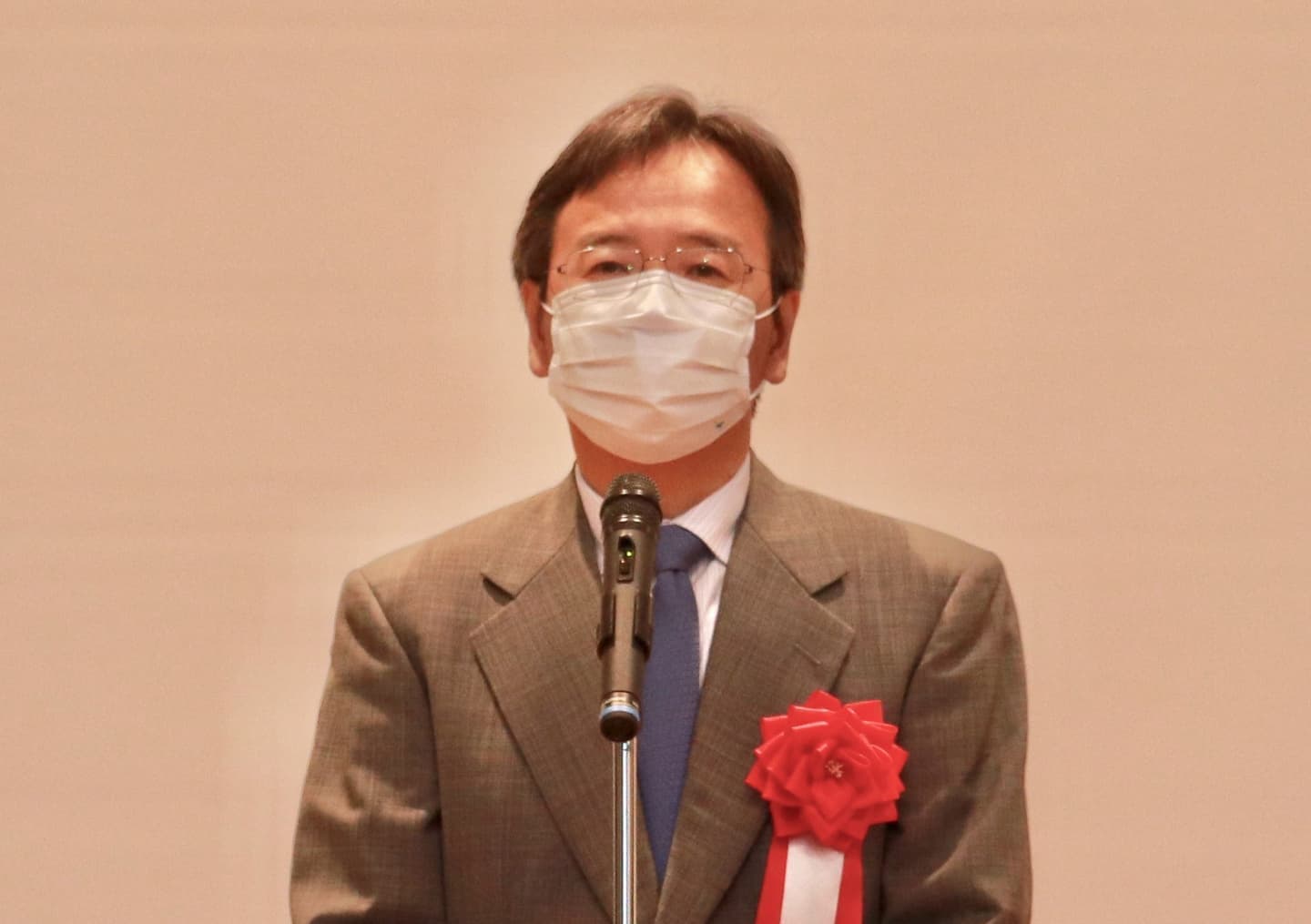 My name is Kazuhisa Tsuboki. I'm a Vice-Director of the Typhoon Science and Technology Research Center and Director of the TRC's Typhoon Observation Research Laboratory. It's a pleasure to see you all here today. First of all I'd like to express my deepest gratitude to Dr. Umehara and everyone at YNU for establishing this wonderful Center. The formation of a center dedicated to typhoon research is a dream come true for people involved in weather research, and especially for those of us who study typhoons. For years I had wished for the establishment of a research center or laboratory like this one, but it always lay somehow out of reach. I didn't expect to see it happen during my career as a research scientist, so when Dr. Umehara made it happen thanks to his strong leadership, I was delighted. Today is a momentous, historic day for typhoon research in Japan. The work of the TRC, your work, needs to be carried out on a nationwide scale, and I'm grateful and proud to be a part of it. Speaking personally, I am determined to push resolutely forward with typhoon research, and I ask for your kind assistance and counsel in this endeavor. The aspect I'm in charge of is observation. In fact, I flew in an airplane through the eye of the typhoon that just blew through here. Flying into the typhoon confirmed my expectation that seeing the phenomenon from that angle for the first time, observing its true value and gathering real data, is truly vital. I want the Typhoon Observation Research Laboratory to push strongly forward with the airborne observation sorties. Having observed the typhoon in this way just two days before the TRC opening ceremony, feeling almost like a pilot myself, I believe that we need not only to continue manned observation flights but also to develop observation using drones. One of the major goals of my lab is to be able to observe typhoons using both manned aircraft and drones 10 years hence, when the TRC is sufficiently mature. With such a research program, the Typhoon Observation Research Laboratory can collaborate with research scientists who use models and those who work directly with typhoon-stricken regions, pursuing typhoon research together. Here at the TRC, let's work together to raise typhoon research in Japan to a new level. I ask for your support and encouragement in this vital work. Thank you very much.

Masaki Satoh, Professor
Vice-Director, TRC
Director, Typhoon Prediction Research Laboratory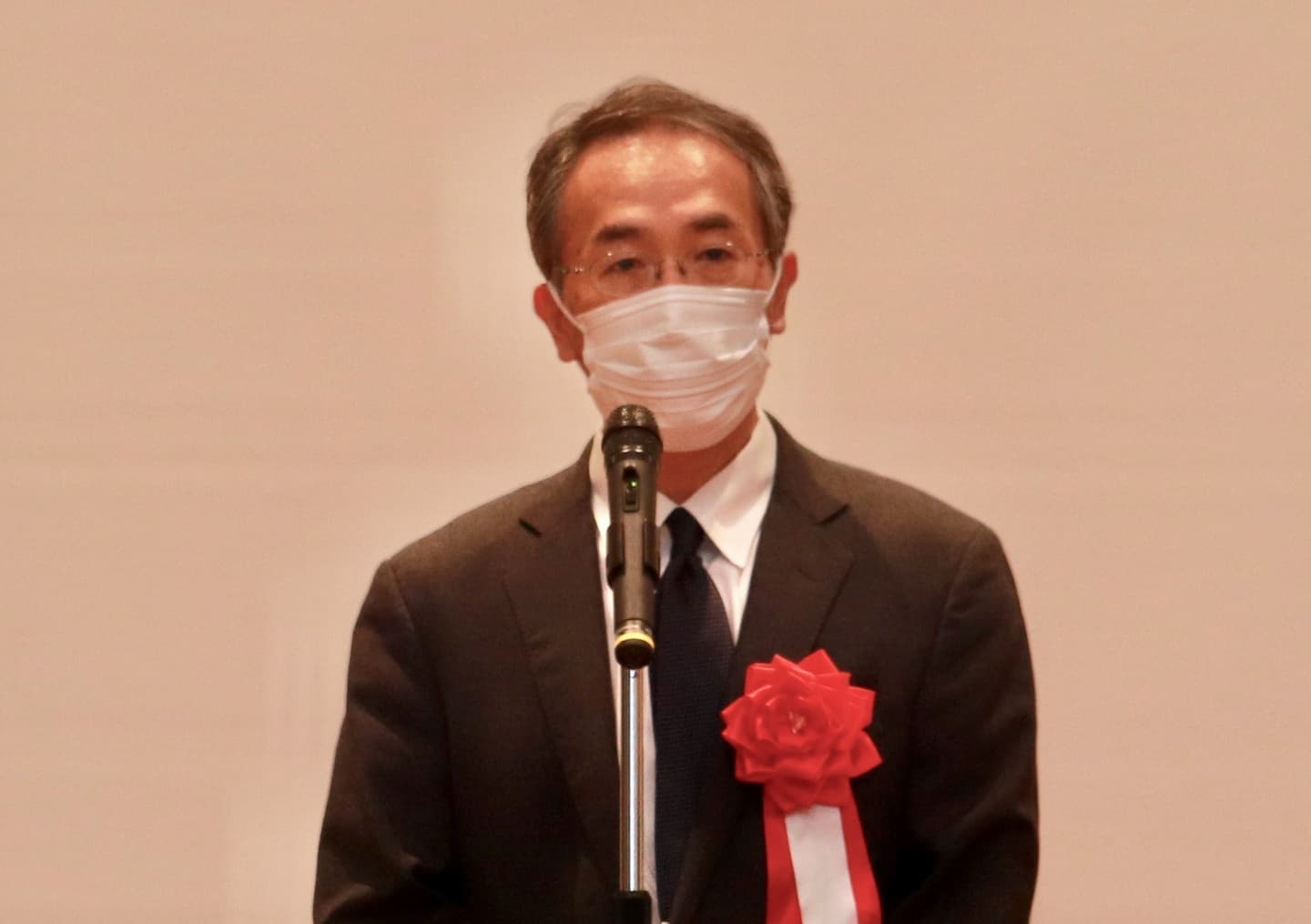 As you have just heard, my name is Masaki Satoh and I'm the Director of the Typhoon Prediction Research Laboratory and a Vice-Director of the TRC. It's a pleasure to be with you. In addition to my duties here at the TRC, I also work at the Atmosphere and Ocean Research Institute (AORI) of the University of Tokyo. In my capacity as a typhoon researcher I was one of the co-authors of the 6th Assessment Report of the Intergovernmental Panel on Climate Change, IPCC-AR6. I recently gave a presentation on ongoing changes in typhoons in tandem with global warming. I'm also involved in the Program for Promoting Research on the Supercomputer Fugaku, established by the Ministry of Education, Culture, Sports, Science and Technology (MEXT) for the early creation of results using Fugaku. For many years I have been doing research on numerical modeling, developing global models and, more recently, storm image dissection models, as they are called, in pursuit of typhoon research. In this post, as Director of the Typhoon Prediction Research Laboratory, I am advancing research on typhoon prediction and numerical modeling. More than a decade ago, I tried with Dr. Fudeyasu to persuade someone to set up a typhoon research center. Our first effort was for a major project with MEXT. Over and over, we reworked the concept, tabling one proposal after the other. So as I'm sure you can appreciate, the establishment of the TRC here at YNU triggers a flood of emotions for all of us who were involved. As global warming progresses, typhoons are expected to grow stronger and more ferocious. The recent Typhoon No. 16 in Japan, was one we followed right from the beginning. In former times, once a typhoon passed 20°N or so, its strength would start to dissipate, but Typhoon No.16 was forecast to hold its strength and continue to develop. We believe that further strengthening of typhoons in the seas around Japan can be forecast because of the effects of global warming. Typhoons can be expected to grow extremely strong. For us as typhoon researchers, this is no mere academic research topic. It is our mission to warn society and encourage appropriate preparations. With the cooperation of not only people in the meteorology field but also disaster-preparedness people, engineering professors, professors of humanities and social sciences, and a wide range of other academics, the TRC will fulfill its mission to inform and prepare the public for the threat of typhoons and ensure that necessary preparations are made. My colleagues and I at the TRC intend to take a proactive stance. I ask for your support and encouragement, and with that I conclude my address. Thank you.
Nobuhito Mori, Professor
Vice-Director, TRC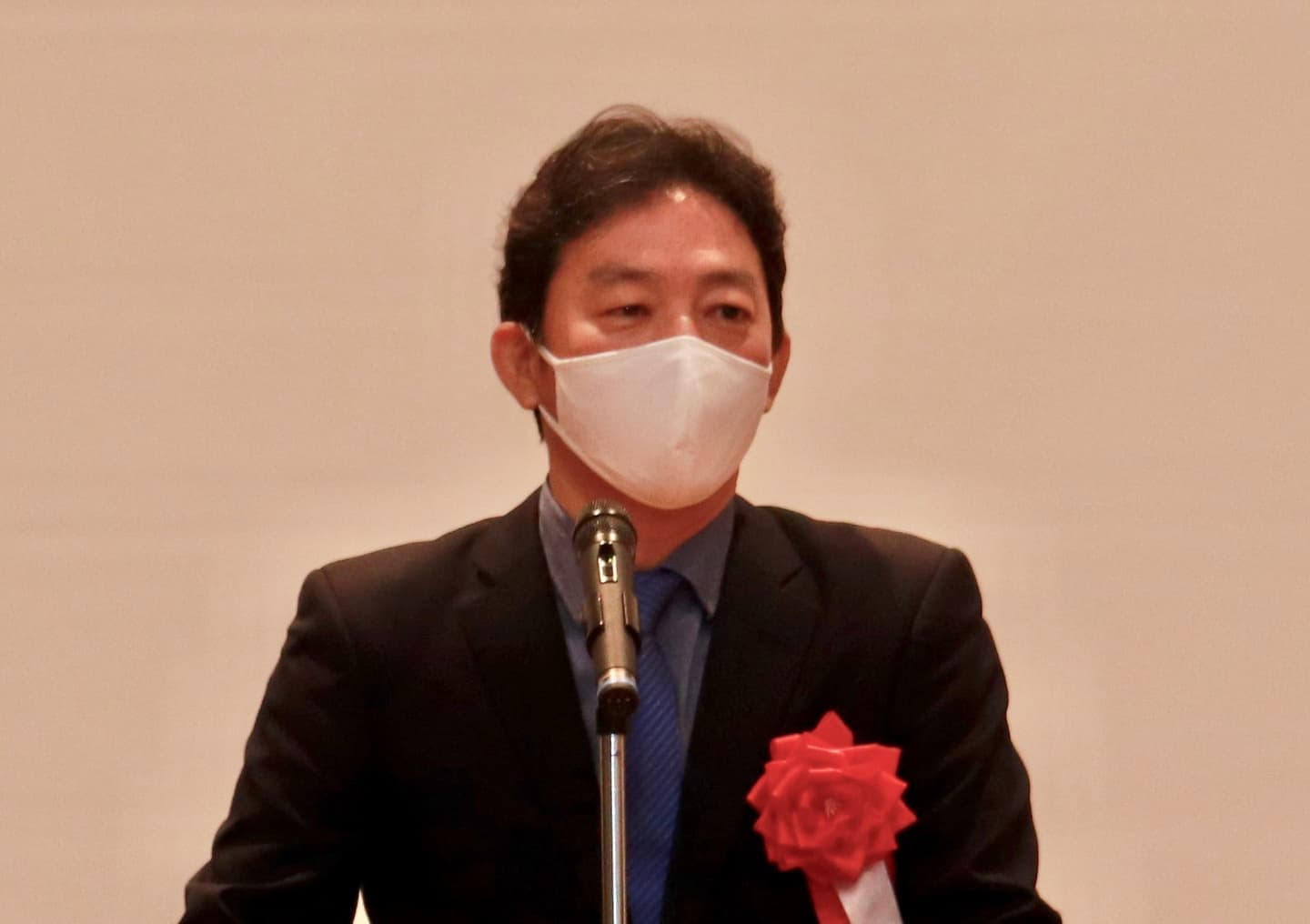 Thank you very much. My name is Nobuhito Mori and I am appointed to the post of Vice-Director of the TRC. It's a pleasure to speak to all of you. I serve as Vice-Director here in tandem with my main job, which is Vice-Director of the Disaster Prevention Research Institute, Kyoto University. On this occasion of the opening of the TRC, I would like to begin by thanking Dr. Umehara and everyone at YNU who worked so hard to make this day possible. My field of specialization is not meteorology but disaster preparedness, with particular focus on disasters of wind, water and high tide. Of all the developed countries, Japan and the United States are arguably the two that have suffered the most from these natural disasters for so long. In addressing typhoons, our most important goals are, first, to eliminate human death and suffering, and second, to minimize damage to economies and society. You've just heard Dr. Fudeyasu relate his feelings of frustration and heartbreak at our inability to reduce further the suffering caused by typhoons. In the 50 or 60 years since the end of the Second World War, Japan has succeeded in reducing typhoon deaths by single and even double digits or more. The ultimate goal, however, is zero harm from typhoons. In terms of socioeconomic damage, the trend is rising, not falling. To prevent truly staggering damage that rises to the level of a national crisis, the TRC must be used to prevent and mitigate damage from typhoons. As I explained at the beginning, I am not a meteorologist, but the full name of the TRC is "the Typhoon Science and Technology Research Center," and I consider it my role to link science and technology to the tasks of disaster prevention and reduction. Moreover, science is transmitted to society in the form of scientific technology and finally via technology, which is covered in the work of another Vice-Director here, Dr. Mitsuyuki, and his Laboratory. It is my hope that the TRC will succeed in fusing the discipline of typhoon meteorology, which is rather hierarchical and not very amenable to the exchange of ideas, with support from disaster prevention, disaster mitigation and engineering, resulting in a synthetic discipline we may call "disaster-prevention science related to typhoons." The TRC is a truly revolutionary Center and I am enormously grateful to be accorded a role in it. I am determined to contribute to its success in any way I can. Thank you very much.

Taiga Mitsuyuki, Associate Professor
Vice-Director, TRC
Director, Typhoon Power Generation System Development Laboratory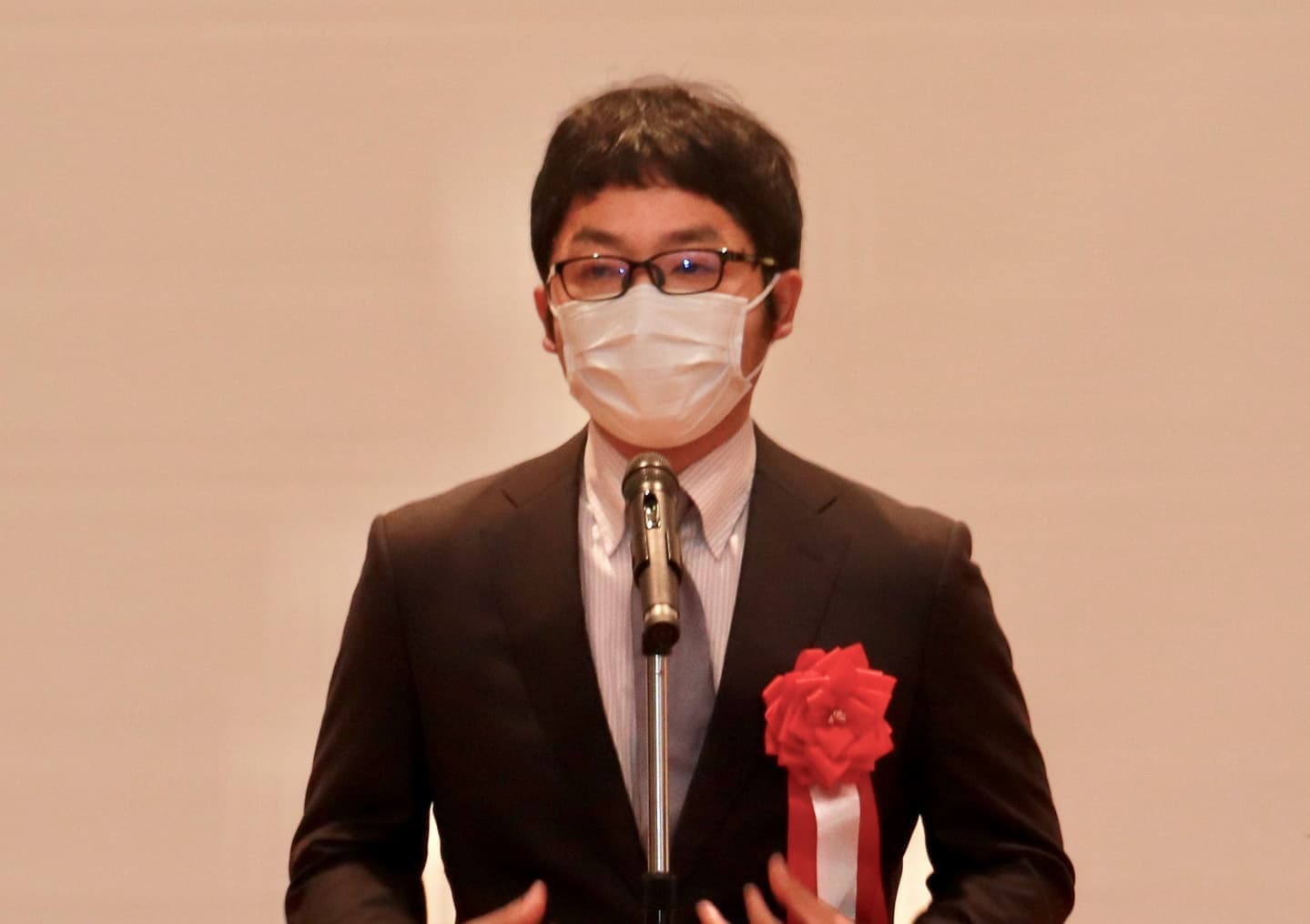 Greetings, everyone. My name is Taiga Mitsuyuki and I'm a Vice-Director here at TRC. I'm also a faculty member at the Systems Design for Ocean-Space Educational Program of YNU's College of Engineering Science. Like Dr. Mori, I have never been involved directly with meteorology. My background is in maritime industries, ship logistics and offshore wind power generation, where I am involved in a wide range of activities. In terms of my own experience, I am involved in projects at a unit separate from IAS related to offshore wind power generation. When I thought about the barriers to adoption of offshore wind power generation in Japan, I realized, unsurprisingly, that one of the biggest factors is typhoons which are peculiar to Japan. Three years ago I thought that, if typhoons are not taken into account, it is impossible to calculate costs or refine strategy for offshore wind power generation. Then last year I received an introduction from Dr. Fudeyasu. When he started talking about developments in typhoon research policy, all kinds of inspirations bubbled up in my head. One idea I had was to establish a typhoon power generation lab. It became my mission to tackle this challenge, which probably had not seriously occurred to anyone else in the world. Dr. Fudeyasu and I discussed what would happen if windmills were engaged and what strategies could be employed when a typhoon is forecasted. I had no idea what the answers were, as I knew nothing about typhoons at the time. But now, thanks to the combined strengths of everyone here at the TRC, I have learned a great deal about typhoons, and the more I know, the more I see ways of putting typhoon energy to use. With these exciting ideas on the horizon, I look forward to holding wide-ranging discussions with all of you. Now I'd like to make one more point. I believe that if the TRC continues its activities directed mainly by people specializing in meteorology, typhoon research will advance in leaps and bounds. I'm truly excited about that prospect. And while we move forward with research centered on typhoons, we can prepare the groundwork for our targets. I hope that we will be able to use typhoons to generate power by 2050. Like Dr. Mori, I'm a technology-and-engineering guy. But more than developing technologies, I want to create an industry. Driven by that ambition, I want to create industries using typhoons by 2050. In preparation, my personal goal is to take the first steps and create the core components here at the TRC. I ask all of you for your kind cooperation. And with that I conclude my remarks. Thank you very much.